Paint
I posted recently about the Concrete Ecology Blocks I picked up from ZYX Creative. I've been slowly painting and weathering them. I split the lot of 60 blocks so 30 are bare concrete and 30 are painted (and chipped with Vallejo Chipping Medium) yellow.
The yellow blocks will be put into service in the SIG yard, the bare concrete will be used in other areas.
---
Paint Again
I recently posted about my Plastic Disaster, where I used plastic kitchen wrap to mask my Seattle Lighting warehouse building, and severely damaged the finish.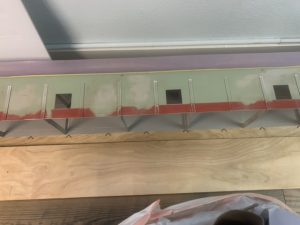 I learned a few things from that mishap; don't use plastic kitchen wrap for masking material, clear coat your finish, and most importantly, you can always paint it again. Of course when the building your painting is 6 feet long it's more of a pain 😉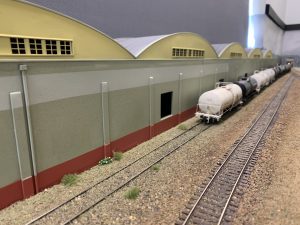 I used a different painting strategy this time. I let each coat cure for several days before moving to the next. And I made sure to incorporate clear coats to protect my progress.
I started Vallejo Olive Drab Primer.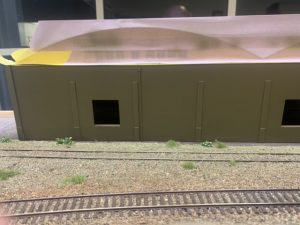 I used Vallejo Sky Type S for the base green. I then clear coated the building with a rattle can Krylon acrylic matte clear. Then I did a little airbrush weathering, basically a speckling with Vallejo Hemp. I taped off the building leaving the foundation and the faded sign area exposed. I painted the sign area with Vallejo Sky-Type A mixed with white to produce a lighter shade. I painted the foundation with Vallejo Fire Red mixed with Vallejo Medium Gray and a couple drops of white. Once the whole building was dried and cured I sealed the paint again with Krylon Matte Clear.
Eventually I would like to weather this building with enamel streaking. But that'll probably be after I get the doors and lights installed.
While it's not a fun experience to ruin a paint job, maybe it's for the best because ultimately I think the second time painting this building turned out better than the first.
---
That's it for now,
Keep 'em on the rails.
Greg
2,121