I've been experimenting with colors to paint rooftop details. While most of the pipes and vents will be painted a metallic or flat gray, HVAC units seem to be slightly more colorful. Probably has something to do with branding. While can't see many rooftop HVAC units from the ground, the ones I've seen have varying tones of gray to grayish brown.
I took some photos of some swamp coolers at the Stacy Street yard office for a limited color palette and improvised from there.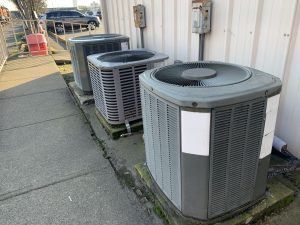 I tied several colors. And think I settled on only a few base colors.
I think I like Dark Ghost Gray, USAF Medium Gray and the mixture of USAF Medium Gray with Hemp, but something tells me I should check out Vallejo Mecha Colors! Anyone have experience with Mecha-Colors?
1,566