Fascia Paint
I bought one gallon of Behr Starless Night UL230-1 Satin. I'll paint the fascias and underside of the layout this color. I bought satin, hoping it'll be more durable. I'm questioning that decision because I tend to like a flatter finish.
I wanted a dark blueish gray and the color sample looks like what I want. I hope this color comes out the way it looks on the sample card. I painted it on a few boards tonight but it looked a lot blue and very little dark gray. We'll see how it turns out when dry.
I'm going to try to paint the bench-work before installing it.
Going with 2×4's
I went shopping for 1×4's and decided to buy 2×4's. I know they're thick and heavy and big, but they are also only $1.92 for kiln dried straight 8′ 2x4s; crappy and crooked 1x4s are $5.62 a board, the slightly better but still crappy premium pine is $7.48 a board. Is it really that hard to make a quality board and charge a decent price for it? I was also considering ripping some plywood, but I'm going to need to screw into the ends to much for that to be a good solution.
Starless Night Update 2/23/2012
I painted up several boards with the Behr Starless Night paint and I really don't like the way it looks. Here is a photo sitting on top of my black tool chest for comparison. To me it looks all blue and not really gray. I'm going to get a different color. Perhaps just a black or Behr Stealth Jet 780F-7 (which I already have a little of.)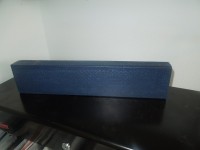 The Stealth Jet color sample is very similar to the gray on this website.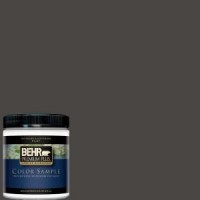 1,178