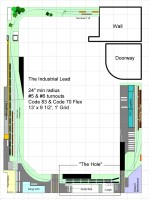 I'd like to have two full spots on the layout at anytime. One full spot at the industries and one full spot in the yard. A full industry spot is 214″, I only have 192″ of dedicated yard tracks. I don't have enough yard space to store a full second spot.
I've tried different methods to extend yard space, but they all result in a shorter lead or S curves in the yard ladder. The lead is 92″, the longest yard track is 76″. With these lengths, I should be able to pull out the longest yard track and maybe foot-board one car.
Maybe a 2nd full spot isn't necessary. I plan to run the operations with sure spots and a full pull and spot would probably never occur.
Operations:
How to play the Industrial Lead.
Session Start
Full or nearly full spot at PCC Logistics
Full spot at Cargill
Full or nearly full spot at Franz
Zero or one car on spot
Yard 1 full with corn syrup cars
Yard 2 full with boxes, hoppers, flats, reefers
Yard 3 full with boxes, hoppers, flats, reefers
Switching
Line up spots for PCC Logistics
Line up spots for Cargill
Pull Cargill
Set Pulls on Odom Lead
Pull and spot PCC Logistics
Pull and spot Cargill
Pull and spot Franz
Pull and spot Terminal 115
Some sessions will only spotting Cargill "the Hole", which can be a wicked puzzle in itself.
Track Plan Changes
Slimmed bench-work. 14″ West. 16″ South.
#6 turnouts for yard ladder. old ladder used #5 turnouts
Code 70 track used beyond Cargill turnout.
Added cars to yard tracks to get a better idea of what fits where.
#5 turnout to Franz. Was #8 turnout.
Drew in slide out drawers (black rectangles). These will be for laying your switchlists on.
Switchlist Program
I've started working on a switch-list program. The initial database is written for Open Office. It's OK, but not great (I like Access better). I can't figure out how to store cars in a track yet. I've also started to look at using Easy Model Railroad Inventory. The program looks great for storing car data, but I need to learn the operations functions to see if they will do what I want.
Car Kind Codes
I'm thinking about using my own code for car types. It'll be semi prototypical in that B is boxcar, C is covered hopper, F is flat car, T is tank car. But the next two characters will indicate length. For example T44 will be a 44 foot tank car. This is similar to the BNSF system which classifies by type, length and property (ex. T4I = Tank Car 40′-49′ Insulated). I think my new coding system will be most useful to operators looking to stash cars on the layout.
704