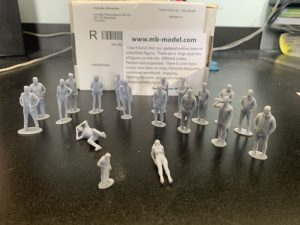 With the threat of a Russian invasion I wanted to direct some small support to the Ukrainian economy and hopefully provide some small measure of stability to a Ukrainian family. I placed an order with the only Ukrainian company I knew of MB-Model. I didn't really care if I lost my money, but I was concerned that this fantastic resource for model figures would disappear. The invasion started just days later and I didn't think I would ever see the models I ordered.
Unexpectedly, I received a package from Warsaw Poland today. It was my order from MB-Model. I'm not sure if the business was able to relocate to Poland or some other arrangement has been made.
The website (MB-Model.com) has been updated with the message:
"We are opened and work. Delivery is working normally. To ensure full protection of your orders, all your payments remain in secure accounts until you receive your order. Otherwise you will get a full refund. We are reliable partners under any circumstances! Your purchases are fully protected!"
I continue to pray Ukraine will be relieved of this devastating war and the people will be able to return to normal lives with a normal economy. Hopefully others will be encouraged to support a Ukrainian company during this very difficult time and when they are finally given a chance to rebuild.
You may also be interested in my previous post That Figures
980