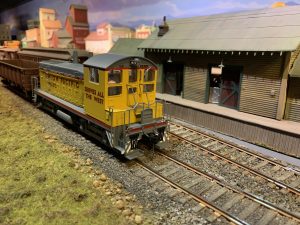 My Atlas O SW9 project started in March of 2020 when I converted it to P48 with Right-O-Way geared wheel sets and retainer platesP48 with Right-O-Way geared wheel sets and retainer plates. A very simple drop in conversion.
This summer I started to super-detail, strip, paint and upgrade the electronics. I've decided to try to make this look like the BN 149BN 149.
I made templates to test fit the new electronics. The loco will have a Soundtraxx TSU-4400, a Soundtraxx Keep Alive and a Tang Band 1925s speaker.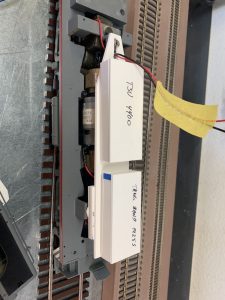 I filed away the top and front grill and will add KV ModelsKV Models photo-etched grills.
I sawed off the floorboards and will fit the pilots with KV Models pilots.
I added some detail to the cab roof, including an antenna, beacon, new air horn and roof hitch.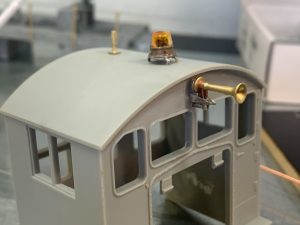 The original handrails were too thick so I'm replacing them with .020" steel or phosphor bronze hand rails with cast stanchions.
I've started painting the portions I can.
I've been testing paint colors and have settled on Tru-Color Cascade Green. I'm also testing masks cut on my Cricut.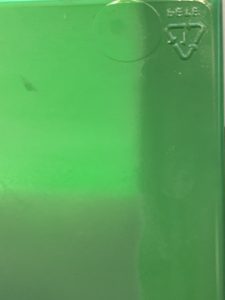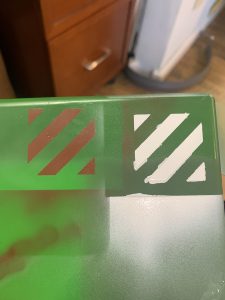 I also purchased a paint booth 🙂
I've been through a couple dozen #75 drill bits and I'm waiting for another order of them so I can proceed. I still need to bend the end hand hand rails, bend the cut levers, replace the white metal grab irons with wire paint the cab and body. And then proceed to electronics.
I also need to find more lift rings, I've destroyed 2 sets. Or I may need to figure out how to mold and cast them.
For inspiration I've studied:
Id also like to thank Rick Bacon for sending me some headlight housings and lift rings.
1,532