I spent a good portion of my modeling time this summer modifying and super-detailing three Peco turnouts. I replaced the frogs with Details West #8 Manganese frogs, filed new guard rails, added fish plates and rail braces. The process was fairly simple, but time consuming.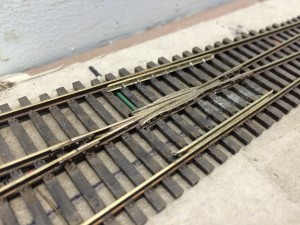 Unfortunately, my gorgeous manganese frogs don't work. The Details West frogs appear to conform to NMRA S 3.2 Trackwork Standard Scales, the depth of the flanges are .025″, but the NMRA S 4.2 Wheels Standard Scales allow for a wheel depth of .028″. It appears that wheels are allowed to be deeper than flangeways.
So I have to rip these turnouts out. I'll replace them with Peco Electrofrog turnouts. I'm super-detailing each one with fish plates, frog bolts and point bolts. The first one has been installed.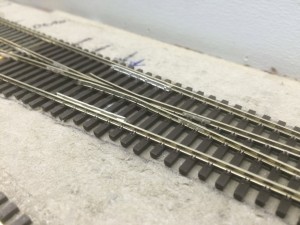 2,768