Finishing & Staining Wood Ties
I've already glued my ties to the roadbed. I used Kappler 8′ 6″ wood cross ties (KP00SS86-HO) I purchased from Proto87 Stores.
I sand my wood ties to flatten them all to the same level. I used a sharpening stone to good effect. I also use a small emery board to hit individual ties that are a little too high.
I distress the ties using a wire brush and Exacto knife. The wire brush helps leave the impression of a grain. I Scribe damage lines and marks into the ties with an Exacto blade.
Finally, I stain the ties using a mixture of sepia colored India ink mixed with isopropyl alcohol. I don't have an exact mixture ratio, but If the stain coloring dries too light, I usually go over with a second coat; if it dries too dark I lightly sand it off and re-stain.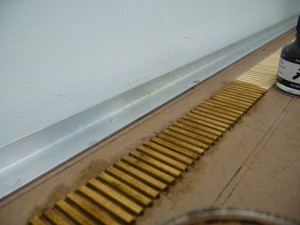 905